---
[ Home ] [ Up ] [ Supplement A - C ] [ Supplement D - L ] [ Supplement M-Z ] [ Supplement Vegetables ] [ Supplement Reserved Access ] [ Seedlist A-AK ] [ Seedlist AL-AN ] [ Seedlist AP-AZ ] [ Seedlist B ] [ Seedlist CA ] [ Seedlist CE-CL ] [ Seedlist CN-CZ ] [ Seedlist DA-DE ] [ Seedlist DI-DZ ] [ Seedlist EA - ER ] [ Seedlist ES - EZ ] [ Seedlist F-G ] [ Seedlist H ] [ Seedlist I-K ] [ Seedlist LA-LE ] [ Seedlist LI ] [ Seedlist LO-LZ ] [ Seedlist M ] [ Seedlist N ] [ Seedlist O-PA ] [ Seedlist PE-PH ] [ Seedlist PI-PZ ] [ Seedlist Q-R ] [ Seedlist SA-SH ] [ Seedlist SI-SZ ] [ Seedlist TA-TO ] [ Seedlist TR-TZ ] [ Seedlist U-V ] [ Seedlist W-Z ] [ Vegetable Seed A - D ] [ Vegetable Seed E - R ] [ Vegetable Seed S - Z ] [ Organic Seeds ] [ Books ] [ Bulk Seed List ] [ Reserved Access ]
---
J. L. HUDSON, SEEDSMAN, BOX 337, LA HONDA, CALIFORNIA 94020-0337 USA
2016 SEEDLIST - Tr - Tz
How to Request Seeds
Request Form for requests sent by the postal service.
Online Requests for e-mail requests with PayPal payment only.
Don't forget postage and packing!
Bulk Seed
"Disobedience, the rarest and most courageous of virtues..."—George Bernard Shaw.

TRACHYCARPUS (tra-kee-KAR-pus)
PALMAE. Himalayan region fan palms, among the hardiest palms known. Slow growing and long-lived, they make nice houseplants in cold regions.
NEW—Trachycarpus Fortunei. (25) TRCY-6. Packet: $2.50
Oz: $7.50, 1/4 lb: $20.00
Click for photo »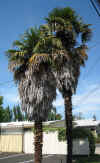 'WINDMILL PALM', 'CHINESE FAN PALM'. Tall slender fan palm to 40 feet, with 3 foot fronds. Clustered fragrant flowers followed by blue 1/2" fruits. Trunk covered with dark fibers, and is thinner at the base than the top. One of the hardiest palms, standing to 10°F, and mature ones have survived –2°F. Commonly grown in Vancouver, B.C., and specimens growing in Sitka, Alaska and southern Norway vie for the record northernmost outdoor palms on the planet. Young flower-stalks eaten. Germinates in 2 - 3 months warm.

TRICHOCEREUS (trik-o-SEER-ee-us)
CACTACEAE. Tree-like to prostrate columnar cacti valued for their large, showy, night-blooming flowers. Fast growing and easy from seed, they take rich soil and plenty of water in the growing season, making them ideal cacti for beginners. Several of them will stand considerable frost, probably down to 10°F. Sow on the surface of a sandy, well-drained mix. Gibberellic acid may double germination.
NEW—Trichocereus Bridgesii. (50) TRCH-6. Packet: $2.50
1000 seed: $12.00
Click for photo »


Pale green, frosted 4 - 8-ribbed columns to 18 feet or so, branched from the base. Dark yellow 4" spines. White 7" flowers bloom at night, but last well into the next day, and are strongly jasmine scented. Bolivia. One of the hardiest. Germinates in 2 - 5 weeks.
NEW—Trichocereus peruvianus. (25) TRCH-42. Packet: $2.50
1000 seed: $12.00
Click for photos of young plants in the snow »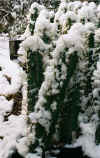 'PERUVIAN TORCH'. Stout, often bluish-green columns to 6 - 15 feet and 6 - 8" thick, with 6 - 8 ribs and stout 1 1/2" spines. Large, showy, white, sweet-scented 10" flowers bloom at night. Peruvian Andes to 7000 feet or more. Easy and fast-growing, standing some frost. Germinates in 2 - 4 weeks with GA-3.
NEW—Trichocereus Terscheckii. (25) TRCH-80. Packet: $2.50
Click for photo »


'CARDON GRANDE'. Huge candelabra-like cactus to 40 feet, with 1 1/2 foot thick trunk, and 8 - 14-ribbed branches. Large areoles with yellow 3 - 4" spines. Large white nocturnal 6 - 8" flowers. North Argentina. Fast growing, massive and free-flowering. Germinates in 2 - 8 weeks. GA-3 may improve germination percent.

TRICHOSANTHES (tri-ko-SAN-theez)
CUCURBITACEAE. Tendril-climbing annual or perennial vines grown for food and medicine. Easy in a warm sunny spot and rich soil.
—Trichosanthes cucumerina 'Rat Gourd'. (10) TRCS-8R. Packet: $2.50
Large vine with large white flowers with fringed petals, followed by unusual fruits. Germinates in 1 - 3 weeks.

TRICHOSTEMA (tri-ko-STEM-a)
LABIATAE. Elegant North American herbs sometimes planted in wild or rock gardens for the curious flowers or scent. Prefers light sandy soil in an open, sunny position. Sow in April where they are to flower, 1/8" deep. Thin to 6" apart. Blooms July to September.
—Trichostema lanatum. (100) TRICH-15. Packet: $2.50
5 grams: $12.00
'WOOLY BLUE CURLS', 'ROMERO'. Lovely blue 1/2 - 1" long flowers in spikes, with long curved stamens, and densely covered with purple wool. Shrubby perennial to 2 - 5 feet with narrow aromatic leaves. California. Zone 6. Hispanic Californians considered the plant almost a panacea for many ailments. "The inflorescence is an exquisite thing, more like the production of a Paris milliner than a guileless creation of nature."—Parsons. Seed dormant, give 12 weeks prechill.

TROCHOMERIA (tro-KO-mer-ee-a)
CUCURBITACEAE. African vines with tuberous roots.
—Trochomeria macrocarpa. (10) TROCM-16. Packet: $4.00
Photos: http://www.westafricanplants.senckenberg.de/root/index.php?page_id=14&id=1605
'BABOON CUCUMBER'. Large climber with spider-like green flowers followed by 1" fruits that ripen orange-red and attract birds. Attractive dark green palmate leaves. Tropical Africa. Forms a large tuber valued by caudex-lovers. The large root is eaten roasted by the Bushmen, who remove the bitter core. The Swazi say that if they eat the fruit, it keeps them going all day without other food. Germinates in 1 - 2 weeks warm.

TROLLIUS (TRO-lee-us)
RANUNCULACEAE. Hardy perennials of moist to wet soils of the N. Hemisphere. Valued for their spring and early summer bloom and handsome foliage.
—Trollius chinensis 'Golden Queen'. (50) TROL-6G. Packet: $2.50
Deep orange-yellow 2" flowers in summer, held well above the deeply lobed foliage. Hardy perennial to 30". N. China. Zone 4. Give seed 8 weeks prechill plus GA-3 to germinate in 1 - 3 weeks.

TROPAEOLUM (tro-pay-O-lum)
TROPAEOLACEAE. 'NASTURTIUM'. Hardy and half-hardy annual and perennial South American herbs. Their brilliant flowers, abundant foliage, and easy culture have made them garden favorites. Good for covering walls or fences, or as prolific, quick-growing ground cover. In mild climates, they may grow and bloom almost year round, making a striking display. Excellent, long-lasting cut flowers. Easily grown, thriving in any warm, sunny place. In rich, moist soil they tend to produce mostly foliage and few flowers, so a poor, dry soil is preferred. Germinates in 1 - 5 weeks warm. Seed viable 5 years.
Tropaeolum majus Varieties:
'GARDEN NASTURTIUM'. The common hardy annual, with sweetly fragrant flowers in a range of vivid colors. Also called 'Indian Cress', as the flowers and leaves have a spicy taste and are added to salads. The flower buds and unripe, tender seeds are pickled in vinegar and used as a piquant seasoning, like capers. The leaves and flowers make a delicious, fragrant tea. Stuff the large blooms with nut butter, cheese, etc, for a tasty and visually stunning addition to summer meals. Blooms in 2 - 3 months, and makes long-lasting cut flowers. Easily grown in any well-drained sunny spot, poor soil encouraging bloom. Most seed germinates in 1 - 2 weeks, with stragglers up to 5 weeks.
—Tropaeolum majus nanum 'Alaska Mix'. (25) TROP-5A. Packet: $2.50
Oz: $8.00, 1/4 lb: $16.00
Variegated foliage, conspicuously marked with creamy white. Bright single flowers in a good range of reds, oranges and yellows. Non-trailing.
—Tropaeolum majus 'Empress of India'. (50) TROP-5E. Packet: $2.00
Oz: $6.00, 1/4 lb: $10.00, lb: $20.00
Single deep crimson-scarlet flowers on compact plants with dark bluish green foliage. Hardy annual to 9". A traditional favorite, over 100 years old.
—Tropaeolum majus 'Tall Single Blend'. (50) TROP-5X. Packet: $1.50
Oz: $5.00, 1/4 lb: $9.00, lb: $15.00
Prolific hardy annual climber to 6 feet, with large single flowers in a blend of brilliant reds, oranges and yellows. Add leaves and flowers to salads.

"Live as if you are going to die tomorrow. Garden as if you are going to live forever."—J. Kipling.

TULIPA (TOO-li-pa)
LILIACEAE. Popular hardy spring-blooming bulbs ranging from the Mediterranean to Japan. The wild species tulips will stand poor rocky soil and adverse conditions better than the garden types, and they will bloom for many years without disturbance. May bloom in 3 years from seed. Germination usually occurs at cold (40°F) temperatures.
—Tulipa Sprengeri. (25) TULP-46. Packet: $3.00 OUT OF STOCK
Brilliant scarlet-red 2" long flowers with pointed petals. Very late flowering, May and June. Hardy bulb to 12 - 18", with narrow 10" leaves. NW Turkey. Zone 4. Self-sows, and adaptable to sun or part shade. Said to be extinct in the wild—a good candidate for naturalizing! Germinates in 6 - 24 weeks at cold temperatures.

TURBINA: See Rivea corymbosa.

TYLECODON (ti-le-KO-don)
CRASSULACEAE. Succulent South African perennials.
—Tylecodon paniculatus. (25) TYLE-34. Packet: $2.50
'BOTTERBOOM'. Thick trunk and branches with yellow peeling bark, leafless in the dry season. Nodding dark red 1/2" flowers with green stripes, in 1 - 2 foot branched clusters. Light green 6" leaves. Namibia and S. Africa. Resembles a miniature baobab with age.
---
[ Home ] [ Up ] [ Supplement A - C ] [ Supplement D - L ] [ Supplement M-Z ] [ Supplement Vegetables ] [ Supplement Reserved Access ] [ Seedlist A-AK ] [ Seedlist AL-AN ] [ Seedlist AP-AZ ] [ Seedlist B ] [ Seedlist CA ] [ Seedlist CE-CL ] [ Seedlist CN-CZ ] [ Seedlist DA-DE ] [ Seedlist DI-DZ ] [ Seedlist EA - ER ] [ Seedlist ES - EZ ] [ Seedlist F-G ] [ Seedlist H ] [ Seedlist I-K ] [ Seedlist LA-LE ] [ Seedlist LI ] [ Seedlist LO-LZ ] [ Seedlist M ] [ Seedlist N ] [ Seedlist O-PA ] [ Seedlist PE-PH ] [ Seedlist PI-PZ ] [ Seedlist Q-R ] [ Seedlist SA-SH ] [ Seedlist SI-SZ ] [ Seedlist TA-TO ] [ Seedlist TR-TZ ] [ Seedlist U-V ] [ Seedlist W-Z ] [ Vegetable Seed A - D ] [ Vegetable Seed E - R ] [ Vegetable Seed S - Z ] [ Organic Seeds ] [ Books ] [ Bulk Seed List ] [ Reserved Access ]
---