---
[ Home ] [ Up ] [ Supplement A - C ] [ Supplement D - L ] [ Supplement M-Z ] [ Supplement Vegetables ] [ Seedlist A-AK ] [ Seedlist AL-AN ] [ Seedlist AP-AZ ] [ Seedlist B ] [ Seedlist CA ] [ Seedlist CE-CL ] [ Seedlist CN-CZ ] [ Seedlist DA-DE ] [ Seedlist DI-DZ ] [ Seedlist EA - ER ] [ Seedlist ES - EZ ] [ Seedlist F-G ] [ Seedlist H ] [ Seedlist I-K ] [ Seedlist LA-LE ] [ Seedlist LI ] [ Seedlist LO-LZ ] [ Seedlist M ] [ Seedlist N ] [ Seedlist O-PA ] [ Seedlist PE-PH ] [ Seedlist PI-PZ ] [ Seedlist Q-R ] [ Seedlist SA-SH ] [ Seedlist SI-SZ ] [ Seedlist TA-TO ] [ Seedlist TR-TZ ] [ Seedlist U-V ] [ Seedlist W-Z ] [ Vegetable Seed A - D ] [ Vegetable Seed E - R ] [ Vegetable Seed S - Z ] [ Organic Seeds ] [ Books ] [ Bulk Seed List ] [ Reserved Access ]
---
J. L. HUDSON, SEEDSMAN, BOX 337, LA HONDA, CALIFORNIA 94020-0337 USA
2023 SUPPLEMENT - A - C
How to Request Seeds
Request Form for requests sent by the postal service.
Online Requests for e-mail requests with PayPal payment only.
Don't forget postage and packing!
Bulk Seed
TO OUR CLIENTS
2023 Supplement Seedlist - A - C

GROWING PLANT MEDICINE Vol 1.
R. & S. Cech, 2022. PB, 354pp, 2 pounds. $29.95
A magnificent overview of all aspects of natural gardening—weather, soil, insects, seeds, water, even humans. Details on garden planning, wet and dry gardens, seed sowing, planting, and tending. Extensive info on harvesting seeds, leaves, and roots. The medicinal section is listed by plant families, giving individual species and common names. Includes descriptions of the plants in their natural areas, cultivation, and traditional uses. This volume covers families A to H. Richo's love of the natural world shines through on every page. Written with grace and humor, with Sena's charming illustrations, there is something here for gardeners of every level, from beginners to experienced professionals.

ACNISTUS (ak-NIS-tus)
SOLANACEAE. A single species.
—Acnistus australis. (50) ACNI-44. Packet: $2.50
Click for photo »



'BLUE ANGEL'S TRUMPET'. Abundant lilac-blue 1 1/2 - 3" long nodding trumpets in summer. Shrub to 10 feet or so, with downy oval leaves. Argentina. Best in Zone 8 or 9, but roots survive in Zone 7. Attracts hummingbirds. Germinates in 2 - 6 weeks.

AGASTACHE
—Agastache rugosa 'Golden Jubilee'. (50) AGAS-12G. Packet: $2.50
Attractive golden leaves and short purple spikes of flowers. Perennial to 20". Nice. Germinates in 1 - 2 weeks.

ALLIUM
—Allium carinatum ssp. pulchellum. (50) ALUM-19P. Packet: $2.50
'WITCHES GARLIC'. Reddish violet flowers in open graceful umbels of nodding blooms. Hardy bulb to 2 feet, blooming in summer. Europe. Zone 3. Prechill 4 weeks.

AMARANTHUS
—Amaranthus caudatus Mira'. (1000) AMAR-1M. Packet: 2.50
5 grams: $7.50
Spectacular long 'dreadlocks' of bicolored green and rosy red flowers. Hardy annual to 4 feet. Good long-lasting cut flowers.

ANNONA
—Annona muricata. (10) ANNO-16. Packet: $3.00
Ounce: $15.00 (85 seeds per ounce)
'SOURSOP', 'GUANABANA'. Largest of the genus, the 8" long, dark green fruits weigh up to 8 pounds. The sweet white flesh has been likened to black currants and perfumed cream. Evergreen tree to 20 feet, with fragrant flowers. Tropical America. The leaves are made into 'corossol tea'. Tender. Bears at an early age. The seeds are insecticidal. Has many medicinal properties. Zone 9.

ANTIRRHINUM
—Antirrhinum majus 'Black Prince'. (1000) ANTR-30P. Packet: $2.50
25 grams: $7.50, 100 grams: $25.00
Deep crimson flowers above foliage that darkens to bronzy-purple in cold weather. Semi-dwarf to 18". An old classic, introduced a hundred years ago.
—Antirrhinum majus 'Twilight Mix'. (1000) ANTR-30T. Packet: $2.50
10 grams: $7.50, 100 grams: $50.00
Nice mix of colors, rose, white, yellow, lavender, and bicolors. Semi-dwarf plants to a foot or so, with dark bronzy leaves.

ARGEMONE
—Argemone glauca. (100) ARGE-10. Packet: $2.50
'PUA-KALA', 'HAWAIIAN PRICKLY POPPY'. Large 3" white flowers with orange stamens and a red-tipped pistil. Greyish annual to 1 - 4 feet. Known only from Hawaii; distinct from intermedia. The juice was used for toothache, ulcers, etc.

ASTRANTIA
—Astrantia major 'Rose Symphony'. (50) ASTA-16R. Packet: $2.50
Large umbels in red and pink shades, June to August. Hardy perennial to 30". Excellent cut flowers. Prechill seed 4 - 8 weeks. A fine variety. Prechill seed 4 - 8 weeks.

BERKHEYA
—Berkheya cirsiifolia. (100) BERK-8. Packet: $3.00
Stunning large white flowers with yellow centers, June to September. Perennial to 2 feet, with densely spiky foliage. South Africa. Zone 8. Germinates in 1 - 5 weeks.

BRACHYCHITON (bra-kee-KI-ton)
STERCULIACEAE. Australian trees with swollen trunks. Grown in warm regions for their masses of showy flowers.
—Brachychiton populneus. (10) BRAC-19. Packet: $2.50
50 seeds: $7.50
Click for photo »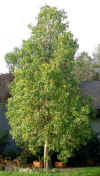 'BOTTLE-TREE', 'KURRAJONG'. Bell-shaped white flowers in clusters in May and June. Evergreen tree to 60 feet, with swollen, bottle-shaped trunk and dense, pale green 3" leaves. Australia. Zone 8. Good shade tree in the low desert. Soak overnight, rub off covering, to germinate in 1 - 3 months.

BUTIA (BOO-tee-a)
PALMAE. 'YATAY PALMS'. Attractive small feather-leaved South American palms grown for ornament and fruit. Some are fairly hardy. Soak seed for a day or two & plant in sterile soil or sandy peat. Keep warm and inspect for roots now & then—as the seeds sprout, pot up. May take up to 3 years.
—Butia capitata. (10) BUTI-4. Packet: $2.50
'PINDO, JELLY, or PEACH PALM'. Small palm to 10 - 20 feet, with gracefully arching, grey-green, 8 - 12 foot fronds. Brazil & Uraguay. Produces large clusters of fragrant yellow inch-wide edible fruits. "Fruit is delicious—a complex orange/peach/mango taste. Nut is very hard, but if cracked tastes like coconut."—A. Lord. Nut polished and used as beads. One of the hardiest palms—to 15°F.

CALLISTEMON (ka-li-STE-mon)
MYRTACEAE. Among the showiest of Australian shrubs, with profuse bottlebrush-like flowers. Good landscaping material in California.
—Callistemon citrinus. (1000) CALST-4. Packet: $2.50
5 grams: $7.50
'CRIMSON or LEMON BOTTLEBRUSH'. Large brilliant red bottlebrush flowers on a shrub to 10 - 25 feet, with narrow leaves and silky pinkish shoots. E. Australia. Zone 8. Leaves citrus-scented when crushed. Blooms most of the year and attracts hummingbirds. Tough and reliable. Germinates in 2 - 4 weeks.

CALOTROPIS (kal-o-TRO-pis)
ASCLEPIADACEAE. Showy-flowered shrubs & trees of Africa & Asia, grown in warm regions and in the greenhouse. Easy in well drained soil. In California & Florida, they may be grown outdoors, and they stand dry coastal areas and salt spray.
—Calotropis procera. (25) CALO-19. Packet: $2.50
5 grams: $9.00
Click for photo »


'CROWN FLOWER', 'SWALLOW-WORT', 'APPLE OF SODOM'. Clustered white or lavender inch-wide flowers with purple-tipped petals. Shrub or tree to 6 - 18 feet, with striking, large, rubbery, light green, foot-long leaves. Large, spongy, grapefruit-sized fruits, filled with abundant silky floss. India to Africa. It has a toxic milky sap, and various parts are used for dozens of medicinal purposes. Contains a number of cardioactive substances and has been used in preparing arrow poisons. Yields a glossy, flax-like fiber which is very strong and used for bow-strings and fishing lines. Seed floss used for pillows. Insecticidal and vermifugal. Said to be one of the secret ingredients used in producing the 'Damascus Steel' of sword fame. Germinates irregularly, from 3 weeks to 7 months warm. Best in the dark, at 86° F.

CANAVALIA (ka-na-VA-lee-a)
LEGUMINOSAE. Ornamental tropical beans with often showy pea-like flowers and trifoliate leaves. Large pods. Good in warm regions. Long season.
—Canavalia ensiformis. (10) CANV-8. Packet: $2.50
'JACK BEAN'. Robust annual to 3 - 6 feet, with inch-long pink-purple flowers followed by huge foot-long pods which resemble giant green beans, filled with large white seed. Tropical America. Tender young pods eaten like green beans, picked before the seed swell (half grown) and cooked—toxic raw. Young shoots eaten cooked, and fully grown green seeds eaten cooked, but mature seeds are toxic unless boiled repeatedly and peeled. Highly productive, yielding 800 - 4600 kilos seed per hectare, and 40 - 50 metric tons green material, used for compost or stock feed. Germinates in 1 - 3 weeks.

CENTELLA (sen-TEL-la)
UMBELLIFERAE. Creeping perennials of worldwide distribution, grown for groundcover and medicine.
—Centella asiatica. (50) CENTL-4. Packet: $4.00
(=Hydrocotyle asiatica)
1/4 gram: $10.00, Gram: $30.00
Click for photo »


Review of uses: http://nopr.niscair.res.in/bitstream/123456789/7855/1/NPR%206%282%29%20158-170.pdf
Pharmacological Review on Centella asiatica: A Potential Herbal Cure-all Indian Journal of Pharmaceutical Sciences:
http://www.ncbi.nlm.nih.gov/pmc/articles/PMC3116297/
'GOTU KOLA', 'MANDUKAPARNI'. Creeping perennial to 6", with round, kidney-shaped 2" leaves. Inconspicuous reddish-purple flowers. Pantropical. Zone 9. Best in rich moist soil. Famous Ayurvedic panacea, said to promote mental clarity, improve memory, and give long life. Research shows it is anti-inflammatory, analgesic, anti-ulcer, is cardioprotective, radiation-protective, helps dermatitis, wound healing, venous insufficiency (swollen ankles), depression, epilepsy, anxiety, decreases stretch-marks in pregnancy, and improves cognitive function in the elderly and impaired children. Germinates in 3 - 12 weeks at very warm temperatures (90° F), and light, surface sow. Best with 500 - 1000 ppm GA-3.

CHAENOMELES (kay-NO-me-leez)
ROSACEAE. Showy spring flowering shrubs.
—Chaenomeles lagenaria. (=speciosa) (25) CHAE-15. Packet: $2.50
Ounce: $15.00
'FLOWERING QUINCE', 'MU GUA'. Flowering shrub to 6 - 15 feet, bearing abundant 1 1/2" red flowers, sometimes pink or white, followed by fragrant 2" fruits. China. Zone 5. Fruits eaten cooked, and are used in Chinese medicine. Germinates in 3 - 10 weeks warm, and a prechill may help.

CHAENORRHINUM (kee-no-RY -num)
SCROPHULARIACEAE. West Eurasian annuals and perennials resembling Linaria, grown for their almost constant delicate bloom. Good among rocks.
—Chaenorrhinum organifolium 'Blue Dreams'. (250) CHAN-20B. Packet: $2.50
Blue-lilac 1/2" flowers with yellow throats, June to August. Perennial to 6", with small round leaves. Southern Europe. Zone 7. Germinates in 1 - 4 weeks.

CHASMANTHIUM (chas-MAN-thee-um)
GRAMINEAE. Perennial rhizomatous grasses with showy panicles valued in dry bouquets.
—Chasmanthium latifolium. (100) CHAM-3. Packet: $2.50
10 grams: $7.50
'MISSOURI RIVER OATS'. Lovely arching stems with nodding spikelets, "Forming a very graceful and ornamental panicle."—Hitchcock. Tall perennial grass to 2 - 5 feet, with wide, strap-like leaves. Moist areas, E. U.S.

CHENOPODIUM
—vulvaria. (250) CHEN-42. Packet: $2.50
'STINKING GOOSEFOOT'. Peculiar low grey annual to 1 foot, with tiny clustered flowers. Europe. Has a 'fishy' odor, sometimes dogs will roll in it, and I've heard it called 'dog-nip'.

CIRSIUM (SIR-see-um)
COMPOSITAE. North Hemisphere biennials and perennials. Easily grown and not particular as to soil.
—Cirsium echinocephalum. (20) CIRS-20. Packet: $2.50
'PLUME THISTLE'. Purple to red flowers in spiky heads in summer. Hardy perennial to 1 foot, with attractive marbled foliage. Eastern Europe. Zone 5. Germinates in 1 - 5 weeks.

CLEMATIS
—Clematis paniculata. (50) CLEM-89. Packet: $2.50
Click for photo »


'SWEET-AUTUMN' or 'JAPANESE CLEMATIS'. Fragrant white 1" flowers in large panicles, from August till fall. Climber to 30 feet. Japan. Zone 3. Was used in 15th century China to treat corneal opacities and as an antidote to vermilion. Germinates in 1 - 5 months warm. GA-3 harmful.
—Clematis stans. (50) CLEM-104. Packet: $2.50
Gram: $7.50
Blue tubular fragrant 1/2" flowers with recurved petal tips, resembling miniature heracleifolia flowers. Hardy perennial shrubby plant to 3 - 6 feet, with large 6" lobed leaflets. Japan. Full sun to almost full shade, and stands tree roots well. "What they lack in size, they make up for in numbers. The second year it really got our attention. The flowers are scented of sweet violets."—Bertrand. Germinates in 3 - 6 weeks.

CLEOME
—Cleome spinosa 'Color Fountain'. (250) CLEO-5CF. Packet: $2.50
25 grams: $9.00
Nice mix of pure white, pale pink, and rosy violet flowers on plants to 5 feet tall. Germinates in 2 - 5 weeks.

CLITORIA (kli-TOR-ee-a)
LEGUMINOSAE. Easily grown tropical vines and shrubs with pinnate leaves and showy flowers. (Yes, it is named after what it sounds like—an alleged resemblance in the flower!)
—Clitoria Ternatea. (20) CLI-23. Packet: $2.50
Click for photo »


Nice Flower Photo
Info and Photos
Info on use as a tropical forage
'BUTTERFLY PEA'. Deep rich blue 1 1/2" flowers with markings on the standard. Tender twiner to 10 - 15 feet, with 2 - 6" leaves and 4 1/2" pods. Tropical Asia. Considered sacred in India, the flowers are used to dye rice cerulean blue. Good in the greenhouse and in hanging baskets. Good cut flowers. Soak, nick hard seed, seed to germinate in 1 - 4 weeks.

CORNUS (KOR-nus)
CORNACEAE. Well-known ornamental shrubs and small trees with handsome foliage, flowers, and fruits. They include some of our most striking native trees, often with brilliant fall color. Good in both sun and shade, easy in almost any soil. The name 'dogwood' is said to come from the use of a bark tea to wash mangy dogs in old England, though children enjoy being told 'its because of their bark'. Sow in fall; often germinates the second spring. Or try giving 60 days warm, then 60 -120 days cold, or nick seed then give cold. Summer sowing often works, for germination the next spring. Seed viable 2 - 4 years, but is best fresh.
—Cornus florida. (25) CORS-17. Packet: $2.50
1/4 Ounce: $7.50, Ounce: $18.00
'FLOWERING DOGWOOD'. White 2 - 4" flowers in late spring, followed by scarlet fruits that last into winter. Small tree to 20 - 40 feet, with oval 6" leaves that turn glowing red in fall. E. U.S. Zone 5. Fruits attract birds, and the hard wood is used for tool handles. Medicinal.

CUPRESSUS (koo-PRESS-us)
CUPRESSACEAE. Handsome evergreen trees and shrubs with scale-like leaves and round woody cones. Native to warm-temperate N. Hemisphere. For mild climates. The durable wood was used for Egyptian mummy caskets, and the doors of St. Peter's in Rome, made of cypress wood, have lasted 1200 years. Varies in percentage of filled seed, but is viable 20 years. Germinates in 2 - 8 weeks or so.
—Cupressus cashmeriana. (=darjeelingensis) (100) CUPR-4. Packet: $2.50
1/4 Ounce: $7.50, Ounce: $14.00
'KASHMIR CYPRESS'. Striking tree with weeping branchlets of a conspicuous vivid blue-grey color. Fast growing small tree with 1/2" cones. Kashmir, Tibet. Good in California and mild climates. Zone 9. "One of the most graceful and beautiful of all conifers."—Hilliers. Germinates in 1 - 2 months warm, no prechill needed.
---
[ Home ] [ Up ] [ Supplement A - C ] [ Supplement D - L ] [ Supplement M-Z ] [ Supplement Vegetables ] [ Seedlist A-AK ] [ Seedlist AL-AN ] [ Seedlist AP-AZ ] [ Seedlist B ] [ Seedlist CA ] [ Seedlist CE-CL ] [ Seedlist CN-CZ ] [ Seedlist DA-DE ] [ Seedlist DI-DZ ] [ Seedlist EA - ER ] [ Seedlist ES - EZ ] [ Seedlist F-G ] [ Seedlist H ] [ Seedlist I-K ] [ Seedlist LA-LE ] [ Seedlist LI ] [ Seedlist LO-LZ ] [ Seedlist M ] [ Seedlist N ] [ Seedlist O-PA ] [ Seedlist PE-PH ] [ Seedlist PI-PZ ] [ Seedlist Q-R ] [ Seedlist SA-SH ] [ Seedlist SI-SZ ] [ Seedlist TA-TO ] [ Seedlist TR-TZ ] [ Seedlist U-V ] [ Seedlist W-Z ] [ Vegetable Seed A - D ] [ Vegetable Seed E - R ] [ Vegetable Seed S - Z ] [ Organic Seeds ] [ Books ] [ Bulk Seed List ] [ Reserved Access ]
---